Via
Scoop.it
-
Massage, Health and Beauty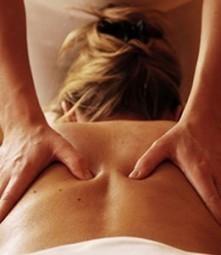 Massage is truely amazing - everyone should try it!
Via thedoctorweighsin.com
My BlackMilk Wet look Leggings and my Bordello Cheetah Heels.
LOVE LOVE LOVE.
Nothing fills the void. No one makes up the losses. Things are never the same and you just don't know how to be who you were before. 
Who can you call when you have a question? 
You try really hard to build something for your life and then like a jumper unraveling before your eyes its gone. It melts away and not matter how hard you try to stop it it just vanishes in to thin air. You begin to wonder why did you bother in the first place? What do you do now? Who are you with out that someone to tell you you're on the right path? 
I'm at the crossroad and I'm just sitting. I can't get up. 
There has been a lot of speculation about what makes a really good massage, because it is after all a subjective experience, but that said there are a few key things that make a massage really really good.
Your therapist is interested in YOU - you can tell when someone is there just to do a massage and collect their pay check and go home. You can feel their indifference in their lack of caring touch. An interested therapist ASKS You LOTS of open ended questions - like How are you feeling?
If it's your first visit with them they should ask you about any medical history or injuries or on going problems and allow you time to elaborate on them so they can form a really good picture of why you are coming for a massage. If this is you subsequent visit they should want to follow up on how you felt after the last treatment and what improvement (if any) there was.
The room that you're in should be comfy and clean - there have been so many times that I have gone for a massage and the room was questionable at best. The towels didn't look fresh and the room was musty. I always wonder if therapists are that hard up that they can't use fresh towels for every client. Its a cost of the business that you're in you should be respecting the money that clients pay you for your service with at the very least clean towels.
Your therapist should be registered with a reputable Association - that's not to say that there aren't some great therapists out there who aren't registered but if you are going to find someone out of the phone book making sure they are registered with the AAMT, ANTA or AMT. These associations have a minimum qualification level to be registered so you know that your therapist has at least completed a Certificate 4 or higher. This should also mean that you can claim on your health fund if you're covered and the therapist holds the right qualification. 
Your therapist will tell you what they are doing and WHY - Each time i go for a massage I find that I have therapists using their knuckles down the inside of neck or jamming their pointy elbow into my back. As an experienced therapist I know WHY they are doing it. I understand that one way of releasing tension in muscle tissue is to break adhesion or that myofascial techniques can be employed to help ease the tension in tissue. But the general public don't know that and there are SO MANY clients out there that come out of a massage bruised and battered and not really understanding why.
Its really important that your therapist EXPLAIN what they are doing and WHY they are choosing to use that particular technique. After all its YOUR body and YOU are paying them to help it feel better you should have some say in HOW it get there. Not just lie face down on a table and grin and bear the pain for no gain in the end. 
Your therapist should have some follow up advice - When I see clients on say a monthly basis (which is what I usually recommend for someone as a maintenance program) I tell people that there are 720 hours in a month (of about 30 days) you choose to spend 1 of those hours with me having a massage, the other 719 hours you tend to do other things (sleep work etc) Its really hard for me to combat the 719 hours of stuff that you do in that 1 hour so some post treatment exercises are HIGHLY valuable. 
This is a hot topic. Should massage hurt? What is an acceptable level of pain? My opinion massage should not really HURT you. 
There are levels of pain, types of pain, dull aches, sharp, pointy, broad, positive and negative all are valid ways of describing your pain when having a massage.
I really think that a therapist needs to listen and understand that massage is very personal. What isn't painful for them might be excruciating for someone else. I personally like to ask clients if the pain feels positive or negative - Is that pressure doing them good or do they feel like backing away from me?
Generally if you want to back away from something its because its not good for you right? I think its wise to keep this in mind when you're massaging or being massaged.
DO you like it to hurt when you get massaged? Why?
Silly Life by:
Heloísa Teixeira